4 Latest Millennial Shopping Trends & How They Can Benefit Your Midsized Retail Chain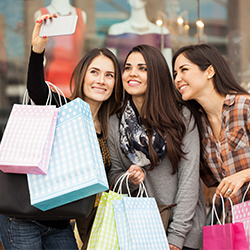 No matter where you look, everyone seems to be obsessed with millennials. The reason for that is simple – millennial shopping trends are now influencing the retail market in a very big way.
So, who are these millennials, exactly? They are individuals born between 1982 and 2000, as defined by the United States Census Bureau. According to Pew Research Center, they are expected to overtake baby boomers in population in 2019 as their numbers increase to 73 million and boomers decline to 72 million. Generation X, on the other hand, is expected to pass the boomers in population by 2028.
The conclusion here is that millennials are starting to outnumber other generations, which makes them your primary customers. This means that you have to appeal to their shopping sensibilities, if you want to stay competitive.
According to research by UPS, millennials make 54% of their purchases online, while 63% of millennials complete transactions on their smartphones. 40% of millennials refer to online reviews and testimonials before purchasing a product.
In other words, millennials are always connected, and they crave convenience at every opportunity. That's why forward-thinking companies like Amazon, Uber and SkipTheDishes are winning them over in droves.
As a traditional retailer, you can appeal to their needs and wants too – as long as you take note of the following millennial shopping trends and adjust your business accordingly:
1. Mobility
It's no secret that millennials and their smartphones are inseparable. So, why not take advantage of that?
No, you don't need run an online store or have a mobile app (although you should consider that), but you can retool your brick-and-mortar stores for mobile users. After all, according to an Accenture study, millennials still prefer to shop in stores, where they can touch and feel products in real life before buying them.
One of the most effective things you can do is invest in a mobile point-of-sale system (mPOS). That way, instead of having your employees glued to one spot, you can keep them on the move to accommodate customers no matter where they are in the store.
With mPOS, you can:
Eliminate lineups. No matter where the customer is in the store, your people can use mPOS to scan items, take credit card payments, perform loyalty card signups and even process returns.
Help customers on the go. Your staff can use mPOS to instantly look up items and their availability from anywhere in the store, streamlining the entire customer experience.
Like we said, millennials are looking for convenience. They don't want to stand in long lineups or search your entire store for specific items. If you can process them quickly, then they'll return to you for more.
2. Social Media Engagement
Are you active on social media? According to Adobe, social media is the most relevant advertising channel for 42% of millennials. So, if you don't have an active presence on social media at all, then you're ignoring a significant portion of your customers.
That said, even if you do keep your social media account up to date and relevant, this may not be enough. As we've mentioned earlier, millennials like to look at reviews and second opinions before buying a product, so they may not trust your marketing efforts outright. In this case, your best bet is to partner with influencers or experts who would put in a good word for you.
3. Omnichannel Shopping Experience
We've talked a lot about an omnichannel shopping experience on this website, and we'll keep talking about it, because it's still relevant.
So, what is omnichannel? In a nutshell, it's a seamless integration of online and offline shopping experiences.
Here are a few examples of how you can set this up:
Showcase your inventory online. Millennials do a lot of their research online. This means that they'd prefer to know what items you have in stock, their quantities and location before paying you a visit or even giving you a call. Your website should be able to accommodate that.
Offer instore pickups for online buyers. If you are able to process orders online, you should also give your customers the option to pick up their purchase from any of your stores.
Provide a delivery service. If a customer can purchase your products online, they should also be able to receive them at their doorstep (because of Amazon). One way of offering quick deliveries is by relying on crowdsourced shipping since this method of fulfillment is relatively inexpensive.
4. Experiential Retail
While millennials still like their brick-and-mortar stores, their reason for visiting them is changing. They don't want to just buy a product – because they can do that online. Instead, they want an engaging experience, a memory they can recall fondly.
Most shopping experiences are very by-the-numbers. You come in, find what you're looking for, pay for it and leave. Since buying online is easy, visiting a store, especially a "boring" store, feels like a chore for many millennials.
Here are some of the stores that offered something different:
To sell more of its mattresses, Casper recently opened The Dreamery – room where customers can schedule a 45-minute nap on a Casper bed, with sheets, pillows and a sleep mask included. Casper also provides bathrobes, ear plugs and makeup wipes to ensure further comfort.
Known largely for its leggings, Lululemon has started offering yoga classes and meditation spaces at select stores. Since the brand is focused on fitness and wellness, this is a great way to increase its consumer reach.
In an unusual move, Ikea allowed 100 of its fans (who won a Facebook challenge) spend the night in its warehouse in Essex. The company provided them with massages, salons and even a choice of a mattress, sheets and pillows. This wasn't just a fun experience, but also a great way for the guests to test out Ikea's latest products.
While you don't need to open a yoga class or set up a sleepover at any of your stores, you should offer your customers something unexpected or different. For example, by investing in mPOS, you can reinvent the way you process customer purchases and returns. That alone can make you stand out from the pack.
Final Word: Explore All Possibilities
When it comes modern shopping, the worst thing you can do is pretend that the world isn't moving forward. Look around you and weigh all your options. For example, we've talked a lot about mPOS in this article. It's something we offer here at Magstar, so why not give it a chance?
If you'd like to check it out, Magstar President Steven Greenwood would love to give you a quick online demo, as well as show you everything else we have to offer.