6 Ways to Drive Online Shoppers to Your Brick-and-Mortar Stores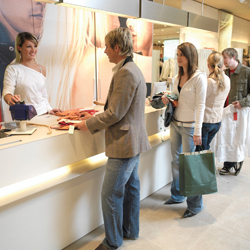 As e-commerce's popularity continues to expand in retail, brick-and-mortar retailers need to find new ways to drive online shoppers to their physical store locations. While customers have embraced the convenience of online shopping, in-store shopping hasn't lost all of its appeal.
Brick-and-mortar locations offer several benefits over online stores, including the ability to physically interact products, speak to helpful associates and receive personalized attention. The majority of customers are still interested in in-store shopping, and in fact, a Google survey found that 61% of shoppers would rather shop with brands that also have a physical location.
The pitfall for many retailers is that they tend to think of their online marketing and their in-store marketing as two separate entities. That their online efforts will just lead to online sales and vice versa, for in-store shoppers. However, online shoppers can become in-store visitors if you entice them to come to your store and give them a reason why they absolutely should.
Let's examine how you can convert your valuable customers and impact your bottom line.
1. Let Customers Find You Easily
First, online shoppers need to know your store exists. You likely already have a web presence, but is it working for you?
Take time to look over your website and make sure your brick-and-mortar address is easy to find. Your website should have your store's street address, phone number and operating hours displayed.
It should also be optimized for mobile, so customers can easily read your website when on the go as 73% of consumers use multiple channels to shop. In addition to your website, list your business online business directories such as Yelp and Google My Business. The key is to give customers a variety of methods to find you.
2. Include Your Inventory in Google Search Inventory
A good way to turn online shoppers into customers is to grab them when they search.
Google Shopping offers North American retailers a way to showcase their inventory to nearby shoppers. Say someone is looking for a new pair of the Nike Air Force 1 shoes in pink. If you include your store's inventory in Google Shopping, the customer will likely see that your store has that pair of shoes in stock. If they click the ad, they receive a Google-hosted storefront page with all of your store's information, including hours, directions, and more. They'll know a few valuable pieces of information with just one click:
Your store is near their location and is open until X time.
Your store has the shoes in stock.
They won't have to wait for the shoes to be shipped to their house.
What will the customer do? They'll likely head to your store to pick up the shoes, rather than wait five to seven business days for delivery. Customers like instant gratification and most prefer to wait five days max to receive their online purchase. This is a valuable way to raise brand awareness and bring new shoppers into your store.
3. Attract Online Shoppers with Social Offers
If you already have an online storefront and want to increase in-store visits, social media is a great way to grab online shoppers' attention. As a business owner, you probably already know the power of social media marketing. However, if you're just using your social media to share images of new merchandise, you're doing it all wrong. Facebook can be the perfect way to convert shoppers into followers. It's one of the most powerful local marketing tools for businesses, but you must use it well.
Facebook Offers are a free and easy way to drive in-store sales with discounts. Let's imagine you own a pet store in Quebec. Your store, Tom's Pets, has a Facebook offer available on its profile. The offer is for a special discount – 50% off all pet beds on all in-store purchases. You can set up the offer's time window. Visitors to your Facebook page can save the offer and show the mobile-friendly code when they come into your store. They'll also get a reminder from Facebook when the offer is nearing expiration, thus driving them to stop in before it's too late. Facebook even provides location-based reminders for targeting customers who are nearby.
In short, Facebook Offers are a great way to turn browsers into buyers and incentivize them to visit your store.
4. Reward Your Current Customers, Offer a Loyalty Program
While courting potential customers, don't overlook the value of your current customers. Reward them for their loyalty with a loyalty program by offering discounts after a certain amount of visits, access to special in-store events and other perks.
Loyalty program members are also more likely to recommend your store to friends and family if they like the program. A Bond survey of 55,000 consumers found that 68% of loyal customers said they are more likely to recommend brands with good loyalty programs. As you probably know, it costs more to attract a new customer than to retain an existing customer, so you can see the power of loyalty programs when your customers do some of the legwork.
According to the same survey, 79% of program members said that a good experience with a loyalty program makes them stay with a chosen brand. The best part of all? Loyalty programs actively encourage customers to spend more, with 65% of respondents answering they modified their brand spend to maximize their benefits. This means they typically spend more on average to reach a certain level or goal in the program.
5. Embrace Email Marketing
Email marketing is a way to capitalize on your current customers' information and drive them to continue to shop in-store. Retailers who aren't investing in email marketing are missing a golden opportunity, as it offers the highest ROI of any marketing form.
Email marketing has a median ROI of 122%, according to an eMarketer study. Simply put, every $1 spent on email can yield a return of $40. It outperforms other marketing tactics and can be an integral part of loyalty programs.
Retailers aren't using their email collection efforts wisely. The Bond loyalty survey also found that while 87% of respondents say their email was collected in a loyalty program, only 63% said that their email was actively used. The takeaway? Don't sleep on email marketing.
6. Create Exclusive Experiences for In-Store
The experiences of shopping in-store can't be replaced by technology just yet. Give in-store customers an experience that is personalized, friendly and unique. Think of a great way that customers can connect with your products. One example is a demonstration or class, like those offered by Williams-Sonoma. Engaging in experiential retail is a great way to show customers how your in-store location is just as enjoyable as shopping online.
Putting It All Together for Success
Do you ensure all of the above run smoothly? Whether it's streamlining your mobile POS, implementing a loyalty program or simply keeping an eye on the warehouse, Magstar offers a full suite of mobile solutions for your store. If you'd like to have a closer look, Magstar President Steven Greenwood would love to give you a quick online demo.